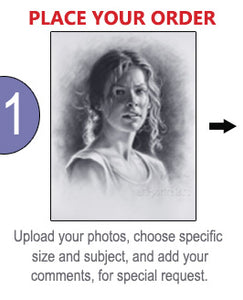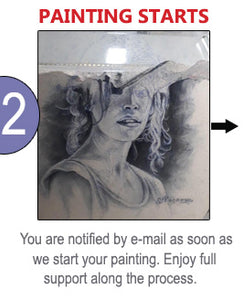 How it works?
Step 1: Select one of our glass frames throw our premade items . You can do that either by clicking on any collection list or any red button titled with ( ORDER & UPLOAD YOUR PHOTO )
Step 2: Upload your photo by clicking on the ( UPLOAD YOUR PHOTO(S)) button on the selected premade item .
Step 3: Read the discerption carefully to know more about the glass-frame ( size, width and how many faces can be painting inside) .
Step 4: you can add an inscription with good wishes or greetings using up to 10 words, or let know if there are any requirements by filling the ( Notes ) field on the selected item and also on the checking out page .
Step 5: We notify you by e-mail as soon as we start the process of painting . And you will have our full support and updates regularly via e-mail, until your order gets ready for shipping .
Step 6: As soon as we finish the painting, we send you a photo of it and the shipping tracking number.
* 100% Hand-Painted works of art by professional artists.
* A robust quality control process.
* Unlimited revisions in your hands so you get the best painting that you want you to get the best out of your money.
* With you and communicating every step of the way.
* Look at the finished painting before shipping it.
* Free pictures of process with one short video.
* No-Questions-asked money back guarantee and free shipping worldwide.
* Superior customer services.
* Exceptional value for money deals!